We hear quite frequently from shelters who have confiscated or taken in large numbers of hoarded animals…. and then struggle to treat them or find them homes. These animals often have serious medical problems or are poorly socialized, or both. Providing the care they need can really strain shelter resources . This blog highlights an interesting new study that explored an innovative approach to "problem multi-cat households" [1].
(That terminology, by the way, is interesting – on the one hand, it's important to call something what it is, in order to properly deal with it, but on the other, not all problem multi-cat households are hoarding environments.)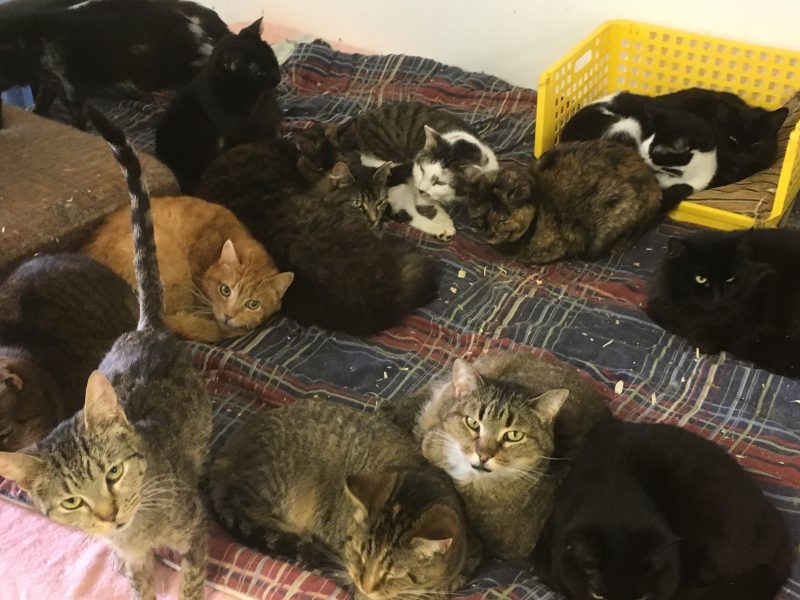 Main study findings
The UK-based study investigated 10 multi-cat households with a history of complaints to the RSPCA. There were 176 cats in total, with a range of 7-33 per household and a median of 16, which is pretty typical. The consent and co-operation of all owners for participation in the process was obtained. Each cat was assigned an animal welfare score by an RSPCA veterinarian at different time points. All female cats over 8 weeks of age were spayed and animal care education was provided. Follow-up visits were made 2 and 12 months later.
Individual cat welfare scores averaged 5.4-8.7 intially and improved significantly at the follow-up visits. At the 2 month mark, no household had obtained any new cats but by 12 months, 3 owners had acquired 6 new cats. By the end of the study period, 3 households had voluntarily surrendered all their cats and there was a 40% overall reduction in the number of cats. That still left a median of 10 cats per household at the 12 month mark.
Almost half (26/55, 47%) of cats that were relinquished from these households were euthanized for welfare reasons, suggesting that these were not "mild" situations. It might also, however, reflect that the owners relinquished the cats with the most serious problems.
Why not just seize all the animals and prosecute the hoarders?
Recurrence of hoarding is almost inevitable when the "seize and prosecute" strategy is used. It might be very satisfying to swoop in and rescue the animals, and punish the perpetrator, but if that's all that is done, we are only condemning more animals to the same fate down the line. It's also a very difficult, slow and expensive process, and the bar for cruelty can be really high. I'd add that alternative approaches are also more humane and compassionate towards the people involved who, although they are causing animals to suffer, overwhelmingly believe they love them and are helping them. A harm reduction approach might stick in the throats of some animal advocates, but it's probably the most effective in the long run.
How many is too many?
Did you know that only 5.5% of households in the UK have more than 2 cats? That means having even 3, 4 or 5 cats is pretty unusual and might be a sign of trouble.
Some jurisdictions specify a certain number of animals as being a threshold for hoarding, but the more sensible approach is to look at capacity for care – not as a way to define hoarding, of course, but as a way to identify welfare concerns. Sometimes having just one animal exceeds a household's capacity for care. How many is too many? Hard to say, but we probably all have the same gut feel that when numbers start creeping toward 10 and beyond, it's likely that most households will not be able to provide adequate medical and emotional care.
Isn't spaying and neutering just a band-aid?
That's a pretty unequivocal "no" from me. It's a massively useful intervention. Similar to our recent study (summarized here) [2], a large proportion of cats in this study were intact and pregnant. This is a kind of ongoing brush-fire in welfare terms, where cats are constantly reproducing, leading to poor welfare for the queens and most likely a high mortality rate and miserable short life for many of the kittens. Sterilization all by itself can have substantial welfare benefits for animals, both medically and behaviourally, and of course by controlling the numbers, it ensures that conditions don't rapidly deteriorate.
What else helped?
Almost certainly, having access to veterinary care as well as support and assistance made a substantial difference in this study. Many overwhelmed caregivers express relief when they are able to relinquish animals into the care of organizations that they trust. Caring for large and growing numbers of animals is a tremendous emotional, physical and financial burden and sometimes people feel trapped and don't know where to turn.
Is this type of approach a magic bullet?
Definitely not, no such thing in animal hoarding – but it does offer a lot of advantages over more traditional approaches.
The problems weren't necessarily solved – but they were substantially reduced in a way that did not require the enormous resources that would have been required if all those animals had been seized. That would have required a prolonged period of sheltering or fostering, veterinary care, regulatory intervention, legal proceedings and (in a perfect world) intervention by mental health workers. The process described provides a reasonable, practical and resource-efficient way to manage many hoarding situations.
Blog post by Dr. Linda Jacobson BVSc PhD
References
Hill K. et al 20019, BMC Veterinary Research; A novel approach to welfare interventions in problem multi-cat households
Jacobson LS et al 2019, Journal of Feline Medicine and Surgery; Medical conditions and outcomes in 371 hoarded cats from 14 sources: a retrospective study (2011-2014) and Medical problems in hoarded cats – CASCMA blog