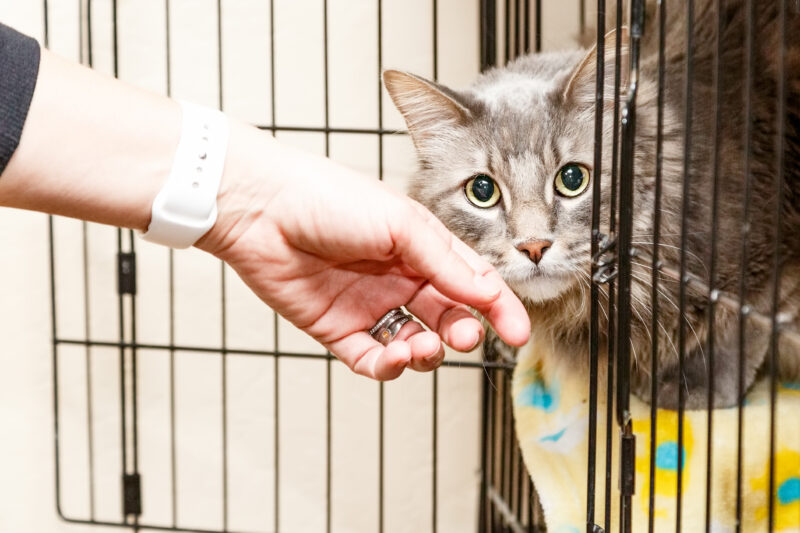 By Dr. Shelley Hutchings, Chief Veterinarian at the Ottawa Humane Society
Jacklyn Ellis, of Toronto Humane Society, published this article on a new tool to assess the well-being of cats in a shelter setting. This evaluation tool uses four ordinal scales to assess different behavioural aspects of a cat's well-being. The four scales, which are observationally rated between 0-5, are:
Fear, Anxiety and Stress score, to assess stress via body language of the cat.
Response to Petting, to evaluate the cat's level of comfort with human contact.
Participation in Play, to convey the enthusiasm with which the cat engages in play.
Food Intake Summary, to summarise available information about the cat's food consumption.
The article also defines a standardized training system that was used to implement the evaluation tool.  Limitations of some other observational scoring systems were identified as lacking training systems and reliance on behavioural and postural signs of stress only, which may miss other indicators of progress.  
The paper indicates that by using ordinal scales and collecting rating scores during standardized times of the day, staff and volunteers would be able to produce a more holistic picture of the cat's psychological well-being.   
A high degree of inter-observer agreement and excellent inter-observer reliability was reported when using this tool, suggesting it can be used by multiple staff and volunteers to monitor the well-being of cats in shelters, as well as monitoring progress in response to behavioural modification plans.
The article concluded that the scales presented in the study can be useful for monitoring psychological well-being in animal shelters or academic studies, particularly for monitoring the impact of specific interventions.  This research will support animal welfare organizations to better understand and interpret behavioural indicators, which, in turn, will improve the well-being of more cats in more communities.    
---
The CASCMA Blog is proudly sponsored by Ogena Solutions