CASCMA Fall CPD Day and Workshop November 23 & 24, 2019, 1810 Pathobiology Building, Ontario Veterinary College, 419 Gordon Street , Guelph, ON N1G 2W1 (see bottom of page for directions and parking information)
ACCOMMODATION: Click here for hotel reservations at our group rate.
Thank you to our generous sponsors!

Saturday November 23: Smart Patient and Population Management
8:00 – 8:30 am Registration and light breakfast
Smart Strategies for Population Management – Dr. Cindy Karsten, UC Davis
8:30 – 8:45 Introduction
8:45 – 9:30 Infection control strategies-balancing animal needs and biosecurity
9:30 – 10:15 Antibiotic stewardship
10:15 – 10:30 Break
10:00 – 12:00 Outbreak management, emerging diseases
12:00 – 1:00 Lunch, CASCMA AGM
Smart Strategies for the Emergency and Critical Patient – Dr. Mike Ethier, TVEH
1:00 – 1:15 Introduction
1:15 – 2:00 Triage – from patient assessment to initial stabilization
2.00 – 2:45: Criticalist approach to common ER presentations – trauma, hemoabdomen, parvo/panleuk., sepsis/pyometra, blocked cats
2:45 – 3:00 Break
3:00 – 3:45 The in-hospital patient – executing a plan, getting more from less, what trends can tell us
3:45 – 4:15 Utilization of shelter resources – can we predict who will respond to treatment?
4:15 – 4:30 Strengthening the relationship with your emergency care provider
Register here for the November 23 CPD Day (separate registration for November 24, see below).
Sunday November 24: Smart Sheltering Workshop with Dr. Cindy Karsten
What does your shelter need to do and what can it safely not do? How can you save time and resources, and thereby minimize length of stay and maximize life-saving capacity?
Dr. Cindy Karsten will lead participants through a flexible, interactive workshop discussing the Do's and Don'ts of Smart Sheltering.
Potential topics include: Intake exam; ŸDisease recognition and monitoring; Ÿ Vaccination; ŸTreatment;Ÿ Outbreaks; Shelter data; Humane housing; Population management tools; ŸLength of stay
Bring your shelter's data and all of your burning questions to this workshop. You will work with other sheltering professionals, under the guidance of Dr. Karsten, to find ways to improve your shelter's lifesaving capacity.
8:00 – 8:30: Registration and light breakfast
8:30 – 4:30: Workshop
12:00 – 1:00: Lunch
Register here for the November 24 CPD Workshop (separate registration for November 23, see above).
SPEAKER BIOS
Dr. Cynthia Karsten, DVM graduated from the University of Wisconsin School of Veterinary Medicine in 2010 and went on to complete a shelter medicine internship at Colorado State University. She finished her Shelter Medicine Residency at UC Davis in 2014 and is now the Outreach Veterinarian with the UC Davis Koret Shelter Medicine Program, where her role is to advise shelters, perform focused and comprehensive shelter consultations and present at conferences and universities. Dr. Karsten's interests include population management, infectious disease control and providing accessible, affordable veterinary care to all animals in a community. She also has immense concern not only for the animals in shelters but also for the people who work so diligently every day to care for them.
Dr Michael Ethier, DVM DVSc DACVECC was born and raised in northern Ontario where he developed his love for the outdoors. After graduating from OVC in 2004 he spent a year in a private referral hospital in Ottawa. It was then that he realized his passion for emergency and critical care medicine. He returned to OVC where he completed a residency and DVSc in emergency and critical care medicine. After becoming boarded in 2008, he joined the Toronto Veterinary Emergency Hospital as director of emergency and critical care medicine.
LOCATION AND PARKING
The address is Room 1810, Pathobiology Building, 419 Gordon Street, Guelph. The Pathobiology building is on the corner of Gordon and McGilvray, building 089 on the map.
Parking on weekends is free. We recommend parking within the P25 and P26 parking lots (red arrows on map below).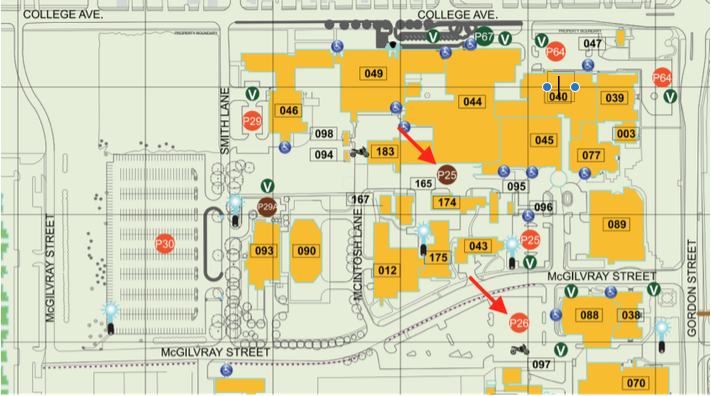 To reach Room 1810: From the parking area walk towards the Lifetime Learning Center (building 077 on the map), past the lab submission entrance for the Animal Health Laboratory and towards the construction currently underway on the front of OVC. In the walkway/corridor between the LLC and the Pathobiology Building (building 089), enter the Pathobiology Building at the first entrance on your right and follow the signs.