By: Linda Jacobson, DVM
I wasn't expecting to write a blog about a giant COVID wave in December 2021. Yet, here we are.
I want to start by acknowledging those who have been most directly impacted by this pandemic, those who have lost loved ones, have suffered with severe illness, or continue to suffer with long COVID. Second, thank you to the incredible healthcare workers, scientists and public health workers who have protected us, often at great personal cost. Next I'd like to acknowledge the tremendous resilience, dedication and resourcefulness shown by everyone in animal welfare, throughout this difficult and uncertain time.
I gave a talk to staff at THS yesterday and am sharing some of this information here, as well as the PowerPoint – please feel free to use any of this as needed. No acknowledgement is required.
Some important points about COVID
There are a couple of myths about COVID that really need to be debunked once and for all, because they impede our ability to respond to new waves of infection:
"COVID is spread through large droplets". This is simply not true, yet the myth remains strong. COVID is airborne. There are big droplets and little droplets of saliva in exhaled breath, and they can all contain virus particles. The small droplets float and accumulate in the air. So close contact in a confined space, over time, becomes highly risky for transmission, even if people are 2 metres apart. This is critical to understanding mask requirements, as well as ventilation and distancing requirements.
"Masks protect the other person." We all believed this at first and it's a little hard to understand why, with hindsight. Masks protect both parties, and should be considered PPE as well as part of our public responsibility.
So. Omicron. What do we know?
It's extremely contagous
Case numbers typically double in 2-3 days
It partially evades the immune response, meaning that previously infected and double-vaccinated people are more likely to be infected than with Delta
Is it less severe?
Milder illness has been well-documented in South Africa so far, but we really don't know yet how this will play out in Europe and North America, Experts caution against "hopium". We need to be prepared for the worst, even as we hope for the best. The hospitalization rates in Denmark are not looking comforting.
So it's highly inadvisable to decide to just go out and get COVID, thinking it wil be less severe. We really just don't know yet.
Have the vaccines failed us?
Definitely not. An estimated 1.1 million deaths, and more than 10 million hospitalizations, have been prevented in the US alone. Vaccines are maintaining their effectiveness against severe illness and death for Omicron.
What should shelters do?
Of course, that's very much a decision for individual organizations, based on their size, resources, risk tolerance and needs. I'll share what we are doing at THS – based on expert advice from the Ontario Science Table and other experts.
Making N95 masks available to all staff, volunteers and visitors, daily, on a voluntary basis.
Rolling out a rapid antigen screening program through Creative Destruction Labs. This is to break the chain of transmission, and will allow us to have staff "test to stay" in the workplace. This is also currently voluntary.
Strongly encourage staff to get their boosters as soon as possible. We already have a vaccine mandate in place, and follow provincial guidelines as to what constitutes "fully vaccinated".
Educating staff about changes in pandemic threats and response, and to be much more vigilant about existing COVID measures in the face of Omicron.
What if we don't have access to N95/KN95s?
If you don't have access to N95/KN95 masks, don't worry. There are ways to ensure other masks are maximally effective:
Double-mask
Improve the fit of existing masks or find masks that fit your face well
Really, right now nobody should not be wearing a flimsy, poorly-fitting cloth mask, or a floppy, poorly fitting procedure mask. There are many good alternatives that are freely available.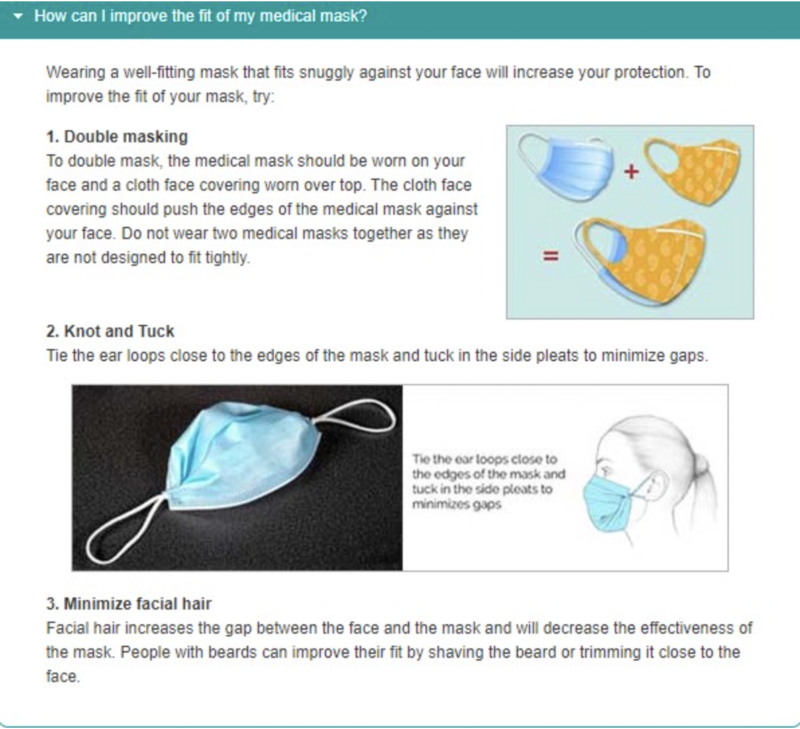 What we are not doing at THS:
For now, and to the extent possible, we are not scaling back services
We are not reintroducing cohorts
We are not changing numbers of people in the building as they are still much lower than pre-pandemic
All this could change, and quickly.
What should individuals do?
Wear N95 masks until the threat level is lower
Reduce contacts over the holidays – fewer gatherings, smaller gatherings. And consider masking during gatherings, when people aren't eating.
Include at-home rapid testing in our personal COVID precautions
Avoid closed, poorly ventilated spaces where possible. Keep the windows open. Meet outdoors. Consider making easy, inexpensive, DIY air purifiers.
Avoid higher-risk environments such as restaurants, gyms and bars
Where to find good information
Twitter! Curated well, this is a mine of instant information and advice. Some of my favourites are Jennifer Kwan, Ryan Imgrund, Isaac Bogoch, Andrew Morris.
Benefits of vaccination (source: Ontario Science Table)

Benefits of rapid screening tests (source: Creative Destruction Labs)