For many of us, getting our hands dirty in the OR is infinitely preferable to spreadsheets, graphs and statistics. However, articles like this one from New Mexico [1], detailing the successes of their community cat management program, really get the juices flowing!
The jump-off point is that community cat population control is the single most effective method to decrease feline euthanasia in shelters. It's estimated that shelter intakes in the US are only 10% of what they were in the 1930s, and euthanasia rates overall have plummeted since the 1970s, when widespread sterilization programs were started. However, euthanasia rates still remain as high as 70% in some shelters.
What about Canada? The 2017 Cats in Canada report [2], from the Canadian Federation of Humane Societies, contains much cause for optimism. However, it reports that:
Only 49% of respondents use trap-neuter-return (TNR) to control cat overpopulation and 46% provide subsidized spay/neuter. High-volume spay-neuter is only done by 18%.
27% use euthanasia as a way to control feline overpopulation.
Stray/community cats still make up the great majority of cats surrendered, and juveniles represent almost 40% of these.
Almost 18,000 feline euthanasias were reported by 86 Canadian shelters in 2016. Approximately 20% of cats entering these shelters are euthanized. This number is still too high and can be expected to vary substantially between shelters across the country, depending on philosophies, bylaws, resources and programs.
Clearly there is much work to be done.
The New Mexico study examines a combined trap-neuter-return (TNR) and return-to-field (RTF) program in a high-intake shelter system in Albuquerque. It's a shining example of proactive programming combined with careful analysis of results. The step-wise and far-sighted approach to community cat management taken by the Albuquerque Animal Welfare Department is really noteworthy, and provides a fine template for other shelters and jurisdictions.
Critical to the success of the program, according to the authors, was the integrated use of return to field (RTF) and trap-neuter-return (TNR), based on the pioneering work of Drs. Julie Levy and Kate Hurley [3], and others.
RTF is similar to TNR other than that it involves community cats (aka feral, unsocialized or undersocialized) that have been surrendered to shelters. Historically, options for these cats were euthanasia (by far the most common), barn release or long periods of confinement by well-meaning shelters hoping to be able to rehome them. RTF programs allow these cats to be processed in the same way as TNR cats, and released to the location they were found. You can find more information in an excellent article at the Windsor-Essex Humane Society website [4] and in a recent Maddie's webinar [5].
The New Mexico study describes and follows four phases, over an 8-year period.
Phase 1: Establishing TNR for management of free-ranging cats. Included discontinuing trap rentals for surrender of feral cats, support of community-based TNR, subsidized surgeries.
Phase 2: Foundation for a Community Cat Project. Initiated RTF program, ended euthanasia of cats based solely on temperament.
Phase 3: Institutionalized RTF through sustainable protocols. Integrated use of targeted TNR.
Phase 4: Permanent adoption of RTF and targeted TNR for management of free-roaming cats.
This is important because it speaks to a long-term view involving an integrated plan that was tuned and updated based on data reflecting the results and impact.
During the study period:
Feline euthanasias decreased by 84%
Feline intake decreased by 38%
Live release rate increased by 48%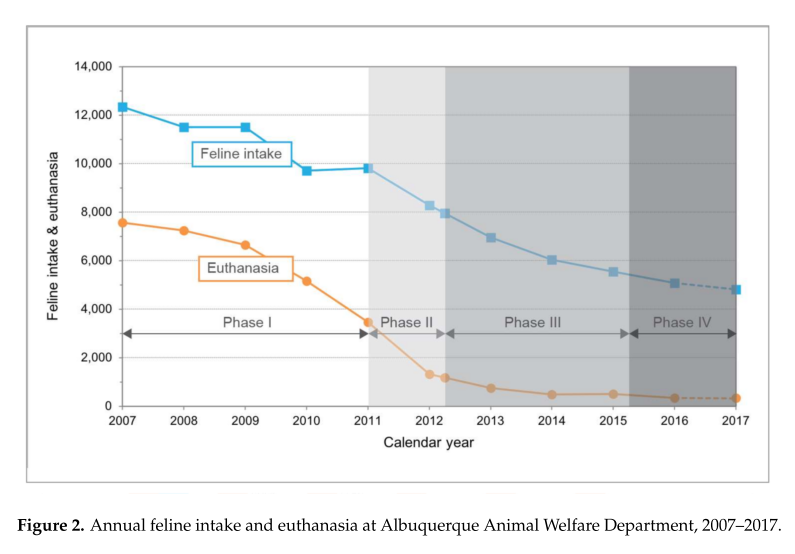 The shelter system used significant resources for this multi-year program. That might be viewed as a barrier – yet it's not so hard to shift that perspective to view this as a constructive diversion of resources that would otherwise have gone into confining and euthanizing unadoptable cats, continuing to take in unsustainable numbers of cats and continuing to turn over droves of burned-out and disillusioned staff and volunteers. Viewed in this light, these types of programs, while they require a substantial paradigm shift, are incredibly rational, as well as being humane, inspiring and sustainable.
Sources
[1] The Impact of an Integrated Program of Return-to-Field and Targeted Trap-Neuter-Return on Feline Intake and Euthanasia at a Municipal Animal Shelter. Daniel Spehar, Peter Wolf, Animals 2018; 8:55. Full text available online.
[2] Cats in Canada Report 2017 – full text available online
[3] New Paradigms for Shelters and Community Cats. Kate Hurley, Julie Levy; Maddie's website; and view Dr. Kate Hurley's game=changing community cats webinars: here and here.
[4] What is Return to Field? Windsor-Essex Humane Society website
[5] Return to Field webinar by Scott Trebatoski, April 2015 here