By Dr. Jacklyn Ellis, PhD.
For many cats, humans provide the comfort and companionship that is essential to their well-being. But for cats that have had limited exposure to people, humans are something very different. Our intentions are unclear, and we are often perceived as a threat. However, with a little patience (and a lot of food!), many of these cats can be taught to trust and love their caregiver.
(Editor's note: It's important to recognize that not all cats can be socialized and that for some, living with people is stressful and inappropriate. For those that may be able to be socialized, be aware that this takes a lot of time, patience and resources, and ensure that this is something your foster homes and shelter resources allow for. Coming soon – FRIENDLY OR FERAL? USING THE FELINE SPECTRUM ASSESSMENT TOOL. – LJ)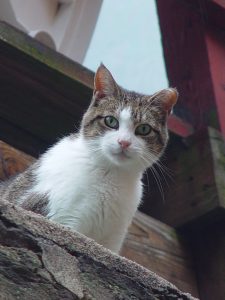 Here are the top 10 tips I give to clients working with undersocialized cats:
Do not force yourself on the cat. This technique is called flooding – prolonged exposure to something which elicits a fear response. The use of this technique is strongly discouraged because it is very stressful to the cat, frequently serves only to strengthen the cat's fear, and presents a higher likelihood of injury on the part of the caregiver.
Hiding opportunities are essential, but do not allow complete isolation. Research shows that providing hiding opportunities can help reduce stress1-4. However, in my experience, cats that spend all their time completely cut off from people make very little progress. It is best to prohibit access to isolating areas such as under beds, instead providing hiding opportunities such as cardboard boxes and cat carriers. This way cats can flee to the perceived safety of a concealed location, but have some exposure to daily life.
Every meal is an opportunity to learn. If possible, food should only be offered in your presence. That way cats learn to associate you with food. Until the cat is comfortable eating in our presence, it is acceptable to leave food. But in that case, it is best to provide several small meals throughout the day so that they learn food arrives when you do. Once they will eat in your presence, try to reduce the distance between you and the food bowl gradually. This process is called desensitization and counterconditioning. Take your cue from your cat: only move the bowl closer to you once the cat is comfortable eating at that distance.
The smorgasbord approach. Try to identify a treat that your cat is crazy about by offering small amounts of human food (such as plain yogurt, mayonnaise, chicken, regular potato chips, marshmallows, and best of all – Heinz Chicken with Broth baby food) and observing what your cat gravitates towards. Then, use this treat EVERY time you are working on a new skill, and ONLY when working on that skill (such as approach or touch). Consistency and contingency are key.
Attempt touch methodically. Once your cat is comfortable eating quite close to you, this is a good time to try introducing petting. Again, ensure you use desensitization and counterconditioning instead of flooding. Once they are engaged in eating, start with one short, light stroke (perhaps with a feather). Begin touching after they have started eating, and finish before they stop eating. As time goes on, increase the number or strength of the strokes. Be careful not to push your cat past his threshold by progressing too quickly – generally, as long as he eating without hesitation you can assume he is relatively comfortable.
Play. Many undersocial cats are too frightened to play with a human, but many socializers can find play to be the best way to experience breakthroughs, so it is worth trying. Just make sure you start with a toy that is non-threatening and keeps distance between you and them (such as a wand toy).
Move slowly and fluidly. Quick motions can be seen as a threat by these cats. When at all possible (and especially when they are close to you) make sure you are mindful of your speed of movement.
Avoid loud noises. Much like quick movement, loud noises are very likely to frighten these cats. Be careful not to make loud noises near them (e.g., put phones on silent and be careful not to drop things). Specially designed cat music playing in the background can help unpredictable loud noises be less startling (check out David Teie's Music for Cats – studies show it can significantly reduce stress in cats5-6).
Provide sanctuary in predictably stressful situations. If you can predict a situation that the cat might find frightening (e.g., you have friends coming over for dinner), close the cat in a back bedroom supplied with everything they need (e.g., food, water, litterbox, hiding places, scratching post, and cat music playing).
Get low. The bigger the person, the scarier they are. The smaller you make yourself, the more likely they are to approach you. Try sitting (or even lying) on the ground when attempting to encourage cats to approach you (this technique is most successful when paired with food).
The most important thing is to understand that working with undersocialized cats can be frustratingly slow. However, patient and consistent application of the methods outlined above can significantly improve the cat's quality of life. And seeing a cat's personality blossom as their fear subsides is a profoundly rewarding experience.
With grateful thanks to guest blogger Dr. Jacklyn Ellis PhD, Animal Behaviour and Welfare Scientist and Manager of Feline Behaviour, Enrichment and Rehabilitation at the Toronto Humane Society.
References
Buckley, L. A., & Arrandale, L. (2017). The use of hides to reduce acute stress in the newly hospitalised domestic cat (Felis sylvestris catus). Veterinary Nursing Journal, 32(5), 129-132.
Ellis, J. J. (2013). Effects of environmental enrichment and behavioural style on stress responses in singly housed shelter cats (Felis catus) (Doctoral dissertation, University of Prince Edward Island).
Kry, K., & Casey, R. (2007). The effect of hiding enrichment on stress levels and behaviour of domestic cats (Felis sylvestris catus) in a shelter setting and the implications for adoption potential. Animal Welfare, 16(3), 375-383.
Vinke, C. M., Godijn, L. M., & Van der Leij, W. J. R. (2014). Will a hiding box provide stress reduction for shelter cats?. Applied Animal Behaviour Science, 160, 86-93.
Hampton, A., Ford, A., Cox III, R. E., Liu, C. C., & Koh, R. (2019). Effects of music on behavior and physiological stress response of domestic cats in a veterinary clinic. Journal of feline medicine and surgery, 1098612X19828131.
Snowdon, C. T., Teie, D., & Savage, M. (2015). Cats prefer species-appropriate music. Applied Animal Behaviour Science, 166, 106-111.